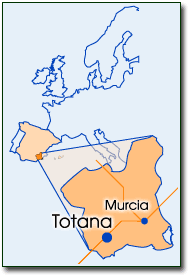 The town of Totana is situated in the south-east of the Iberian Peninsula. Its exact location is in the south-eastern quadrant of the province of Murcia and it covers an area of 287.67 square kilometres. Its boundary is rectangular shaped and inclines to the north-west and the south-east, with a narrow extension towards the centre on the eastern side. It borders on Lorca,
Mazarron
, Alhama de Murcia, Mula and Aledo.
Totana forms part of a region which has a dry Mediterranean climate with an average year-round temperature of 17.8ºC. There are approximately 100 days a year when the temperature exceeds 30ºC and only about 6 days a year when the temperature falls below 0ºC.
The average annual rainfall is 321mm, although this varies greatly from year to year, as a period of dry years can be followed by several years of wet weather. Rainfall can be unexpected and often heavy, leading to floods. Autumn is usually when it rains most, whilst the summer is practically dry.
The average relative humidity is of the order of 64.2%. Winds are light to moderate, but strongest in spring and of least note in winter.
Totana enjoys almost 3,000 hours of sunshine per year which bestows upon the region a tremendous feeling of well-being and benefits both environmental and agricultural conditions, and although the latter is obviously limited by the lack of rainfall, this can be compensated for through effective irrigation.
Totana has a population of approximately 25,000 inhabitants, who live in the town centre and the eight outlying areas of Paretón, Raiguero, Lébor, Ñorica, Mortí, Huerta, Viñas de Lébor and Sierra.